Notice of Annual General Meeting 2023
Invitation to all First Nations Bailai, Gurang, Gooreng Gooreng, Taribelang Bunda members to the upcoming  Annual General Meeting – Saturday 28th January 2023
Please view the official notice below.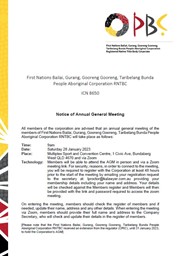 Click here to view PCCC Annual General Meeting 2023 Notice
Attendance Information
Members will be able to attend the AGM in person and via a Zoom meeting link. For security reasons, in order to connect to the meeting, you will be required to register with the Corporation at least 48 hours prior to the start of the meeting by emailing your registration request to the secretary at: lproctor@kalawyer.com.au providing your membership details including your name and address. Your details will be checked against the Members register and Members will then be provided with a link and password required to access the Zoom meeting.
On entering the meeting, members should check the register of members and if needed, update their name, address and any other details. When entering the meeting via Zoom, members should provide their full name and address to the Company Secretary, who will check and update their details in the register of members.