Cultural Heritage
Cultural Heritage Assessment in Adolga, QLD - April 2022
Acknowledgement of Country
"𝘞𝘦 𝘢𝘤𝘬𝘯𝘰𝘸𝘭𝘦𝘥𝘨𝘦 𝘵𝘩𝘦 𝘍𝘪𝘳𝘴𝘵 𝘕𝘢𝘵𝘪𝘰𝘯𝘴 𝘉𝘢𝘪𝘭𝘢𝘪, 𝘎𝘶𝘳𝘢𝘯𝘨, 𝘎𝘰𝘰𝘳𝘦𝘯𝘨 𝘎𝘰𝘰𝘳𝘦𝘯𝘨, 𝘛𝘢𝘳𝘪𝘣𝘦𝘭𝘢𝘯𝘨 𝘉𝘶𝘯𝘥𝘢 𝘱𝘦𝘰𝘱𝘭𝘦 𝘢𝘴 𝘵𝘩𝘦 𝘵𝘳𝘢𝘥𝘪𝘵𝘪𝘰𝘯𝘢𝘭 𝘤𝘶𝘴𝘵𝘰𝘥𝘪𝘢𝘯𝘴 𝘰𝘧 𝘵𝘩𝘦 𝘭𝘢𝘯𝘥 𝘸𝘩𝘪𝘤𝘩 𝘸𝘦 𝘭𝘪𝘷𝘦 𝘢𝘯𝘥 𝘸𝘰𝘳𝘬 𝘰𝘯. 𝘞𝘦 𝘱𝘢𝘺 𝘰𝘶𝘳 𝘳𝘦𝘴𝘱𝘦𝘤𝘵 𝘵𝘰 𝘦𝘭𝘥𝘦𝘳𝘴 𝘣𝘰𝘵𝘩 𝘱𝘢𝘴𝘵 𝘢𝘯𝘥 𝘱𝘳𝘦𝘴𝘦𝘯𝘵 𝘢𝘯𝘥 𝘴𝘵𝘢𝘯𝘥 𝘵𝘰𝘨𝘦𝘵𝘩𝘦𝘳 𝘸𝘪𝘵𝘩 𝘵𝘩𝘦 𝘈𝘣𝘰𝘳𝘪𝘨𝘪𝘯𝘢𝘭 𝘢𝘯𝘥 𝘛𝘰𝘳𝘳𝘦𝘴 𝘚𝘵𝘳𝘢𝘪𝘵 𝘐𝘴𝘭𝘢𝘯𝘥𝘦𝘳 𝘭𝘦𝘢𝘥𝘦𝘳𝘴 𝘰𝘧 𝘵𝘰𝘥𝘢𝘺 𝘢𝘯𝘥 𝘵𝘰𝘮𝘰𝘳𝘳𝘰𝘸 𝘢𝘭𝘸𝘢𝘺𝘴."
The PBC and PCCC are available to discuss all Native Title matters for the Bundaberg, Gladstone and North Burnett regions including Cultural Heritage and TUMRA enquiries. We can assist with Cultural Awareness, Welcomes to Country, Art, Language, Caring for Country and also navigating the vast Native Title Framework.
Expression of Interest
To help assist the provision of Cultural Heritage Management services, and to ensure the equitable distribution of opportunities for paid survey and assessment work, an Expression of Interest Form has been developed to create a register of Traditional Owner representatives interested in participating in this work.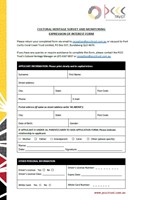 Click here to view & download the Cultural Heritage Expression of Interest form