White Goods
PCCC White Goods Program (NOW CLOSED)
The Trust helps fund White Goods, such as Fridges, Freezers, Washing Machines, Air-Conditioners, to the maximum value of $750. The program is designed to be distributed to 40 Port Curtis Coral Coast families who are most financially in need, based on the information required to support their applications and priority may be given to families.
Port Curtis Coral Coast families or households who have received White Goods assistance under the program in the previous two (2) years are NOT ELIGIBLE for the next round of the program. The Trust does not provide any cash payments and supply of goods is based on a tender process with eligible suppliers providing submissions prior to program commencement.
WHITE GOODS PROGRAM CLOSED JULY 29th  2022, 5:00PM
Thank you all to our 2022 White Goods Assistance Applicants. As applications are now closed, we are now progressing further with your applications. If you would like to know more about the process, please follow the links that are provided below for the program terms and conditions. 
The 2023 round will commence in May 2023.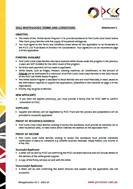 Terms and Conditions